MISSION: BIRTHDAY BLAST
It started with an email titled MISSION: BIRTHDAY BLAST. "Your mission, should you choose to accept it, is to have a blast on your birthday. (Yay!) The first component of your mission: Speak to your superiors and obtain permission to leave work early on Friday, May 20."
Tom's birthday was fast approaching, and I wanted to do it right. He's keeps outdoing himself on birthdays/anniversaries/Valentine's Day (a diamond nose stud, Tiffany earrings, the backcountry backpack of my dreams...) and it was my turn to do something special. I figured a surprise getaway weekend was the way to go, and the MISSION:IMPOSSIBLE theme could only make it more amusing.
A few weeks later, I sent a second email with a packing list that included, among other things, a passport, long underwear, and a swimsuit. He had no idea what he was in for, which is exactly how I wanted it!
My plan was this: Friday afternoon drive up to British Columbia and camp just outside of
Squamish, BC
. Then, wake up Saturday morning and go whitewater rafting on the Elaho (the long underwear was for under the wetsuit - it's a glacial river!). After a fun but cold day on the river, I was sure Tom would assume we were camping Saturday night as well. The surprises would keep coming - instead of driving to another campground Saturday night, I'd take him to a cozy bed & breakfast with a hot tub! Then Sunday, wake up and give him his choice of activities: hiking, horsebackriding, a ferry trip across Howe Sound? Whatever he wanted!
We left town Friday afternoon and arrived at
Paradise Valley Campground
around 7 pm. Unfortunately, although I'd requested a more remote campsite, the site we were assigned wasn't quite what I was hoping for. Fortunately, the owners (Pat and Lynn - incredible people!) were quick to make it up to us. Pat walked us across the road to the
Paradise Valley B&B
, and gave us a room at the B&B for the price of a campsite! What a wonderful woman, and what a wonderful B&B!
Paradise Bath
Paradise bed
Happy Birthday Boy in Paradise!
Of course, the only problem with staying at a B&B Friday night was that it ruined the "special surprise" of staying at a B&B Saturday night. But you know what? I wasn't complaining. Especially as we lay snug in our bed listening to the rain hit the roof Friday night.
Saturday morning we woke up warm and well-rested, and headed off to the Elaho River to become just the opposite. The Elaho is a fun class III river, but on a typical rainy Pacific Northwest day the 35 degree water can get pretty chilly! Still, it was a great time, and I think Tom really enjoyed himself.
We got off the river and had a yummy BBQ lunch courtesy of the rafting company (let's give 'em a plug, since they did a great job of taking us down the river:
Canadian Outback Adventures
). While we were eating, the other people in our rafting group kept talking about going back to warm up in their hotel hot tub. Tom never said anything, but I knew he wouldn't mind a soak in a hot tub... and I also knew he assumed we were camping.
It was so much fun to drive him from rafting to
another
B&B! The
Hummingbird B&B
was another great place to stay, owned by another incredibly nice couple (Abe and Yoko). The Hummingbird is a beautiful combination of Canadian log cabin and Japanese landscaping.
After a long day on the river, the Japanese-style hot tub was just what we were looking for.
Hummingbird B&B
Japanese style hot tub
Cozy fireplace
It rained Saturday night and into Sunday morning, and although we had originally planned to take a ferry across Howe Sound and go on a hike from there, we decided to skip the hike. Yes, we'll admit it. We were feeling lazy, it was raining hard, and a ferry ride sounded like just the right speed for us.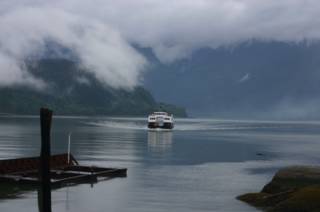 Ferry
The ferry ride was gorgeous, despite the rain: the clouds were constantly shifting across Howe Sound, giving us great views of the Stawamus Chief one minute, then concealing the Chief the next minute but revealing the mouth of the Sound several miles away.
The Stawamus Chief, from the stern of the ferry
Howe Sound
Us
After the ferry ride, we got back in the truck and headed home. All in all, a fun birthday surprise weekend for Tom!
MISSION: ACCOMPLISHED!
One final note - speaking of gifts, all the pictures for this blog were taken with a spiffy new camera Meredith gave me! The camera is
so cool
! Thanks again Meredith!
-Jessi