Down in front!
As we've mentioned before, we have a view of the Seattle skyline, but only from our upper deck. Otherwise, the view is blocked by the boat across the way: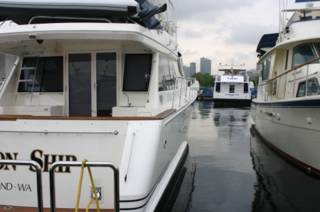 The good news is, we've been told that our dock basically empties out come summertime. Apparently, a lot of boats around here can actually afford to maintain TWO slips simultaneously - one for winter moorage (our marina) and one for summer moorage (usually up in the San Juans). What a rough life.
Why do we care? Well, the boat across from us took a day trip the other day, and gave us a teaser of the view we'll get when they take off for the summer:
We like our neighbors, but can you blame us for looking forward to summertime?
-Jessi