No Excuses
If we were lame, this next entry would start off with a bunch of excuses about why we haven't blogged in awhile. We'd tell you how we spent the last week with my family, and it would've been rude to excuse ourselves from Thanksgiving dinner so we could update the blog. We'd explain that even if we decided to go ahead and be rude, the only internet access we had was dial-up. We'd tell you how before the holiday Tom was away on business and I was absolutely swamped with school work. If we were lame, we'd give you all those excuses and more. But we won't, 'cause we're not.
Instead of a bunch of excuses, I'll give you a bunch of pictures that some of you may find just as uninteresting as the excuses.
That's right, a couple weeks ago we had a pierside party. Pierside, meaning we didn't leave the dock (because it's already tough enough to dock the boat when we're sober). Here are a bunch of pictures from the party, in no particular order. This pointless entry will hopefully compensate for the entries chock full of useful knowledge and helpful tips. Oh wait, we never write any of those. Well, enjoy the pictures anyway!
Full house
Danny didn't have any fun.
The Late-Night Crew, from left to right: Tom, Jessi, Anne, Danny, Jon and Nate.
Duncan the Vicious Guard Dog, protecting us from all the strangers in our home.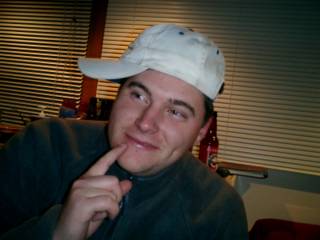 Despite appearances, Matt is the competent skipper of First Child, a 27' sailboat. The slip next to us just happened to be empty, so Matt and his wife Megan sailed First Child across Puget Sound and hung out for the night.
The Morning After - Bye First Child!
-Jessi