Beautiful Koh Chang
OK folks. We are winding down. There's only one stop left after Koh Chang, so here's our picture dump... Have Fun!
We decided to break the bank and spend a few days at a resort (instead of our usual backpacker's hostel). It was amazing!
This is where we ate breakfast every morning... not too shabby huh?
We'd go play out in the water...
Here's Sweetie enjoying a little shade...
I "drove" the princess around...
This was our bungalow. Oh my god there's a ghost on our porch!!
In the evenings we'd sit and have drinks...
This is where we had our New's Year Eve dinner... no that's not a typo.
See, that's how it goes in Thailand. They celebrate New's Year Eve with karaoke bands...
...And sad clowns...
...And they launch these really cool burning paper lanterns into the air, convincing naive tipsy foreigners that they are seeing aliens. SEE, ALIENS!!
(Click to enlarge)
... And FIREWORKS!! Only they accidentally start setting them off at about 10 minutes
before
midnight... which leads to a group sing-a-long of Auld Lang Syne at about 5 minutes til midnight. Ah well...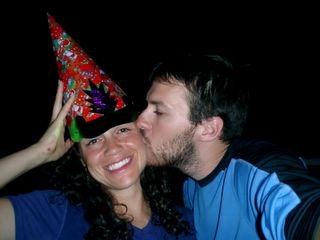 ...We just rolled with it!
It was really perfect. Exactly what we wanted. A little pampering, a little relaxing, a little celebrating... And the sunsets!! I still dream of these scenes.
So gorgeous!
Sweet dreams!!
-Tom