Whew
Sorry it's been so long since we posted last. Jessi's been in Israel for almost 2 weeks traveling (come home now please!) , and so I haven't really been in a blog mood. But I decided I should post anyway.
Don't worry though, I have been keeping myself busy while she's been gone. Check it out.
I know I know... It looks like an open window. To you. But to me, it looks like success. Considering last week it looked like...
And it leaked... And it was stuck shut because there was a moss forest growing in the window track. (Some people call the "pilothouse" the "greenhouse" because it gets so hot... and apparently things grow quite well in there) So last weekend I "popped" out the windows, pulled out the old track, replaced it with new track, and put the window back in. Now it works swimmingly.
No window.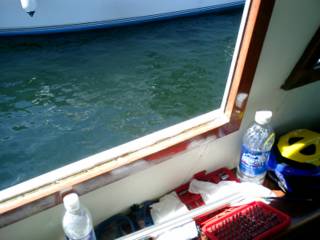 Replacing the track.
Taking all of that into account I'd say it looks more like success.
Oh, and did you notice that blue sky two pictures up? I think summer might be here. It keeps trying to arrive officially, but 2 days after every sunny day, it rains. Looking at the weather forecast, summer might finally win out. We had another gorgeous day like that today, and instead of boiling up some pasta for dinner I celebrated by throwing a filet mignon (Thanks Rob!) on the ole grill (Thanks 'Rents!) poured myself a glass of wine (Thanks Jessi!) and sat my ass out on the bow with the puppy and enjoyed the boat life.
See, I've been keeping myself busy.
-Tom