Ghost Sailor
This is why I love the liveaboard community.
Last night we visited another liveaboard couple here in Seattle. They are leaving today for a 2 week trip up to the San Juans, yet even though we barely know each other, they still took time out of prepping for their trip to host us for dessert and answer all of our "We have no clue what we are doing" questions... . It was wonderful! We had a really nice time with Scott and Angela and their two adorable kids (Zak and Ellie - the "swabbies" according to their
website
). We were treated like family, just for our common interest.
Scott, Angela, Zak and Ellie
The Swabbies
We chit chatted about our boats, our jobs, ate some cake and then got down to business. Scott pulled out the charts and started gushing information. This is their favorite anchorage in the San Juans, and beware of the Admiralty Inlet ripping tides, and you have to go here, and have to go there! 5 years of cruising covered in one night. I know I remembered and wrote down about a quarter of that info (I guess we'll just have to get together again sometime!). They were so amazingly hospitable and helpful.
So, thank you Ghost Sailors and have fun in the San Juans... Bon Voyage!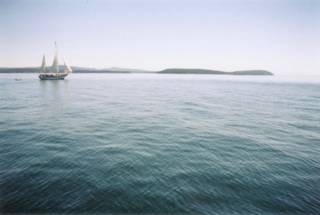 Ghost Sailor on the way to the SJIs
-Tom