Playing hookie
So THIS is why we live aboard:
It was a record breaking day in Seattle yesterday. Perfect weather: sunny, warm with a slight breeze. The only problem - it was Thursday, so how could we possibly we enjoy it? Solution: skip work/school and take the boat out.
I "convinced" a couple of my friends to skip work early and come out with me and Jessi to enjoy the day. Matt and Steve came over at about 230 to cruise lake Washington. We set out along the Montlake cut and perused the charts for a spot to anchor. We decided on Cozy Cove on the eastern shore.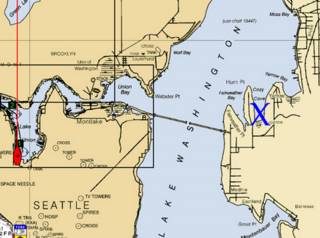 The little red boat is home, the blue X is Cozy Cove.
Rainier on the way to Cozy Cove
Jessi chillin' in Cozy Cove
In keeping with my desire to practice things by just doing it, we tried a few firsts on this voyage.
Our first anchoring:
Nice work
Our first swim off the swim step (It was very cold!):
Get in the damn water, wussy boy.
Refreshed
Our first time deploying the sattelite ship (a.k.a. dinghy):
How romantic!
Big Bad Boat
Our first grilling session away from homeport
At about 6 we decided to haul in the anchor and head home. The next day when Steve was describing the trip to our buddy he said, "It was like a commercial. It started out awesome, and then kept getting awesomer." Um, thanks Steve.
-Tom