Finito
Finally the boat is done being painted. It was a lot of work (for Manuel) a lot of sweat (for Manuel) a lot of rushing to beat the weather (for Manuel.) But it's done. Although I'm really glad I didn't have to put any elbow grease into this part of the boat, I must say it was one of the most frustrating parts of the process (how many times have I said that?). First I thought it would take a week, then 10 days, then two weeks… And since the boat is my house, I'm crashing at buddies' houses and living out of my car and suitcases (Yes, sweetie, I know you did this for six months… but this is my posting, so I'M complaining here). Meanwhile every time the boat is supposed to be done the answer from Manuel is, "I didn't get a chance to so and so." Or "Yeah, it was raining so I couldn't so and so." Most of the time it was said with this sort of aloof "I don't really care when I finish" kind of attitude. RRRR. I had already cancelled one appointment to put the boat back in the water… Don't make me cancel another. Get it done. That's my house, I'd like to actually live there!! But the hardest part is balancing the "I'm pissed off" with the "Please don't get defensive and do a shitty job to spite me."
After all of this back and forth, Manuel finally tells me he's done! I show up at the boat yard 30 minutes early and the yardbirds are already slinging the boat to put it back in the water. So we go from delayed to ahead of schedule in a blink? RRRR. Of course, I didn't have my camera ready, so I couldn't take any pictures.
The worst part of it is that after two weeks of delays, Manuel painted the black stripe in the wrong friggin' place. RRRR. Manuel tells me he can come down to our moorage and paint over the wrong stripe, but he can't put the stripe where we actually wanted it (the shape of the hull makes it impossible). RRRR. Don't get me wrong, the boat looks great - even without the black stripe - but man it took a long time, cost a lot of money and ate away a little more of my stomach lining. I'm just glad it's done.
As I mentioned, the boat was put back in the water before I could take any "After" pictures, but here are some "Before" pics:

Taking the boat out of the water.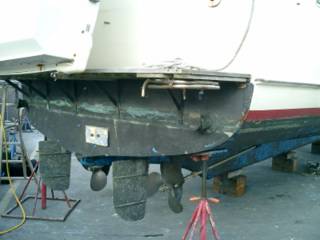 Up on blocks.
This one's kind of a "During" pic...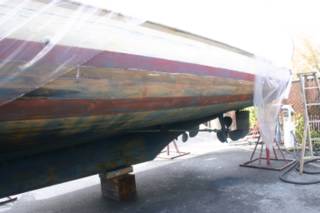 Bare wood

And, although we don't have any "After" pictures, here's a picture of Sea Change in her new moorage, which is a "Way-After" pic... Sea Change has her lights on, third from the left.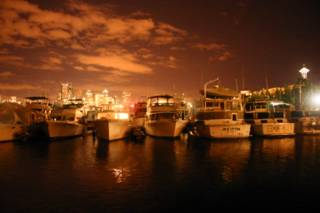 Home sweet home.

- Tom