It's about time!
Two weeks ago Jessi and I travelled to
Bretton Woods, NH
for my brother Rob's wedding. First off, I'd like to offer the first internet congratulations to my brother and his new wife, Zandra. And I'd like to add, it's about f#$% time. I know you have probably heard it a million times Rob, but I feel it's my duty as your brother to say it again. (For those who don't know, Rob and Z had been dating for 12 years.)
We started out with a small bachelor party for Rob. The plan was to meet 2 of his buddies (Jim and Sven) in Boston, have a few drinks, go on a private yacht charter tour of Boston Harbor with light appetizers and more drinks, then hit a steakhouse for dinner and finally paint the town. I really wanted to charter a sailboat, but alas, October in Boston isn't high season for sailing, and most of the charter boats had migrated south for the winter. However, I found a fine substitute in the
M/V Integrity
. I figured since Rob and Z hadn't yet come out to Seattle to see our boat, I'd use this as a short term substitute. It was a lot of fun. The captain was a stitch. If you look up "salty sea dog" in the dictionary - there he is. He even told us stories of using a flare gun to fight off pirates off the coast of Guatemala. Crazy.
The next morning, Rob and I woke up in a hotel in downtown Boston. That's right, couldn't even make it 30 min home the night before. Wheeee! And being the excellent planners that we are, Rob and I left plenty of time to get all of the final errands done, pick up Jessi, and drive 3 hours to NH for the first official wedding event. And when I say "plenty of time," what I mean is, we wouldn't have made it had we stopped to go to the bathroom. My only job was to get Rob to NH "on time" not "early." We had 15 minutes to shower, change into our suits and meet our families. No problem.
Saturday morning was the cermony. It was really great. The setting was gorgeous. I mean really, New Hampshire in the fall, does it get better? It went off without a hitch, but of course even if the ceremony hadn't been perfect (which it was) they still would have ended up married, so no matter what it would have had a happy ending.
The ceremony.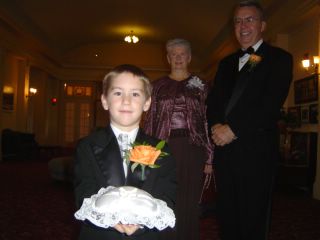 Cousin Ryan, the ring bearer.
The wedding party.
Rob and I at the Reception.
I've never seen Rob as smooth as when he's dancing the salsa with Z. (Yes, his bowtie matches her dress)
Jessi and I at the reception.
Again, congratulations to Rob and Z, and thanks for the wonderful weekend!
-Tom