Tom's 'rents
So my parents came to town to spend some time with Jessi and I. We had a great weekend, hanging out, doing some nothing...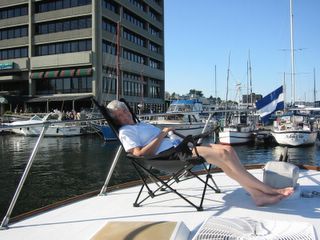 Ahhhh... nothing.
Actually my dad and I worked on the boat a little, replacing the forward toilet, and Jessi and my mom did some shopping and manicuring (tough work!). But one thing my dad really wanted to do was take the boat out for a little cruise.
And cruise we did. I'd rank the little trip we took in the top 10 trips we've taken... well, that's not fair, we've probably only taken 10 trips, so I'll put it in the top 2.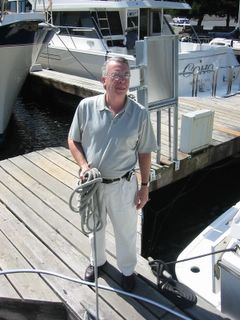 Pops helping get underway.
All we really did was hit Lake Washington, no big deal. But, the sun was shining, it was late summer, we had meat on board. All the conditions were right. My buddies Matt and Megan (who are sadly leaving the area soon-ish - damn Navy!) came over and the 6 of us went for a BBQ/swim trip.
We headed north on Lake Washington to Juanita Bay, found a good spot to drop anchor and set up the grill. We sat out on the bow for an hour or so enjoing beers, brats and chit chats.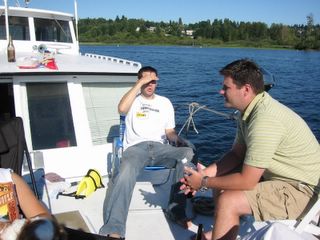 Tom and Matt on the bow.
After eating, and waiting the appropriate amount of time (safety first!), we decided to jump off the boat.
Let's go that way!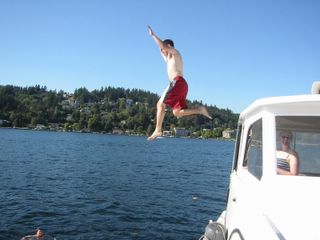 Tom jumps off the roof!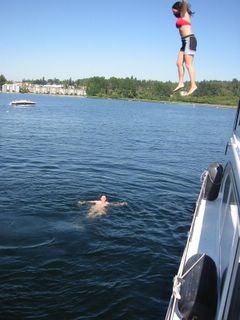 Jessi hovering 10 feet above the water! She's MAGIC!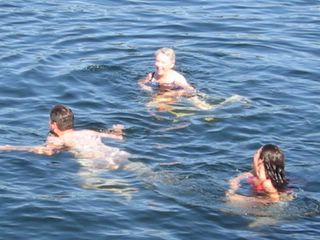 Matt, Ma and Jessi. The water was AWESOME!
Even Duncan got in on it!!
But he didn't like it, so we put him back on the boat.
After we finished swimming, we pulled the anchor and started heading home. Jessi decided she wanted to practice maneuvering the boat so she jumped in and got us underway.
Tom and the Captain
After she got her fill of playing with the boat, she resumed her primary job... Having fun.
Megan and Jessi chillin
Ma and Jessi
Megan and Matt
We pulled back into our slip with no problems, a very very successful trip. Thanks to my Ma and Pops for coming out and spending the weekend with us!
-Tom