Happy (Belated) New Year!
Christmas
is not the only time it's great to liveaboard in downtown Seattle. If you live at the right marina, New Year's Eve can be pretty spectacular as well. Although our bow faces away from the skyline, when you climb up onto our second-level deck and look aft, you have a beautiful view of downtown Seattle and more importantly - for New Years Eve, anyway - the Space Needle.
Every NYE, they shoot fireworks out of the Space Needle. That's right: not over the Space Needle, or near the Space Needle, but directly out of the Space Needle. It's pretty cool. So last Friday night Anne, Danny, Beth and Mike came over to the boat for celebrations.
Danny and Anne
Mike and Beth
We started out with a few drinks, and then walked 1/4 mile around the lake to Daniels Broiler for dinner (another reason we love our marina - close proximity to the best steak in Seattle). Then we came back to the boat and drank just enough so that by midnight, heading out into the cold and wet to watch fireworks sounded like a good idea.
Fireworks shot directly out of the Space Needle.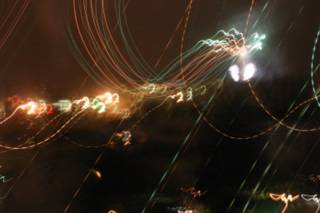 This would be a cool picture if Tom had meant to capture the image this way. Unfortunately, I think it's more a work of alchohol, and less a work of art.
-Jessi